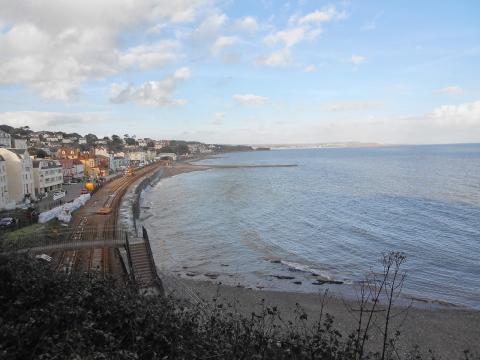 BASE researchers Dr. Roos den Uyl and Dr Duncan Russel from the University of Exeter presented their research at the Royal Geographical Society annual international conference in September 2015.
Their research was covered by UK media at national (BBC Radio 5 Live) and local  (BBC Radio Devon; Radio Exe, BBC Spotlight - Television, Western Morning News - Regional newspaper) level. Here is the article from the Western Morning News by Kate Langston
Lack of planning leaves coastal services vulnerable to climate change
2 September 2015
The growing vulnerability of Britain's coastal infrastructure – including the much-maligned South Devon mainline – is being exacerbated by a lack of clear leadership and coordination, new research has found. Teams from the University of Exeter examining the case of the Dawlish line, say the "fragmentation" of rail services between private and public sectors meant there was no appropriate strategy in place at the time of last year's flooding. And with such incidents due to become more common as the impact of climate change increases, similar disruption could be seen around the UK coastline wherever decentralisation and privatisation is widespread.
When severe storms hit the South West last winter, the Dawlish mainline was out of action for weeks at a cost of hundreds of millions of pounds to the local economy. Once initial repairs were completed, local councils and business groups united to form the Peninsula Rail Taskforce in a bid to secure a more "resilient" future for the line. However, new research by Exeter's Dr Roos den Uyl and Dr Duncan Russel suggests the absences of any unified management body at the time of the incident resulted in a lack of long-term planning for the region's rail services. And they say there has been little change since.
"The policy-making setting around the Dawlish railway line is fragmented," explains Dr den Uyl. "This fragmented setting has thus far prevented a climate change adaptation plan for this vulnerable part of the coastal railway. "[This] mainly results from decentralisation and privatisation in the public sector, which does not seem to yield any leadership, problem-ownership or agency to address the challenges that climate change poses in this area."
The team conclude that the mixture of decentralised and privatised management of services like rail is "not geared towards" addressing the impact of climate change. They add this will only be made worse if the Conservative Government continues to pay too little attention to the threat posed by climate change. "Given the fact that the current UK government policy is not oriented towards prioritising climate change adaption and providing local authorities with more resources, this lack of action is not likely to change in the future," continues Dr den Uyl. "And given that this decentralised, privatised setting around infrastructure and coastal management applies to other areas in the UK, these areas may face similar challenges."
But they say groups like Peninsula are helping to create a debate about who should be in charge of planning. "Privatisation and decentralisation are not necessarily bad things," stresses Dr den Uyl."But in the face of climate change, which is a long-term and collective challenge we need to have a clear idea of who we want to be responsible."
Dr den Uyl and Dr Russel are presenting their findings at the Royal Geographical Society annual international conference in Exeter this week.