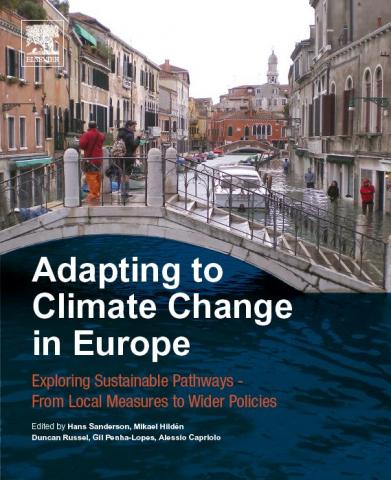 Adapting to Climate Change in Europe: Exploring Sustainable Pathways - From Local Measures to Wider Policies is a scientific synthesis of a four-year project on adaptation activities in Europe.
This publication combines scientific assessments with real-world case descriptions to present specific tools and methods. The book aims at ensuring sustainable solutions in adaptation to climate change.
The challenge of adaptation is still at an early stage; this book fills relevant gaps in current knowledge on climate adaptation, providing a crucial set of tools to support effective decision-making. It acts as a guide to practitioners and decision-makers along different steps of on-going adaptation processes.
Adapting to Climate Change in Europe contains methods and tools for improving stakeholder's participation and analyzing costs and benefits of different adaptation measures. It is an essential resource for researchers, graduate students, and experts and policymakers working in climate change and adaptation.
Key Features
Features real world case studies providing a tool for comparative learning
Fulfills the current knowledge gap in climate change adaptation
Includes top-down economic models allowing for a novel application and integration of adaptation features in European and global models
Provides in-depth analysis of participation using new empirical material and approaches
Readership
The book addresses researchers, graduate students, experts working in climate change and adaption, policymakers working on climate change. Urban planning professionals and climatologists.
Editors
Hans Sanderson, Senior Scientist, Department of Environmental Science, Aarhus University, Denmark
Mikael Hildén,Professor, Climate Change Programme, Finnish Environment Institute (SYKE), Finland
Duncan Russel, Associate Professor in Environmental Policy, University of Exeter, UK
Gil Penha-Lopes, Faculdade de Ciencias, Universidade de Lisboa, Lisbon, Portugal
Alessio Capriolo, Head of the Economic evaluation, environmental accounting and sustainability, environmental risk perception and management Division, Italian Institute for Environmental Protection and Research (ISPRA), Italy